Good morning pals! This is a "quickie" and y'all know how I like those! A dear-heart of a girlfriend reached out to me the other day and asked that I network through my readership for a cause worth networkin about.
I know.
I know. Y'all give give give and the price of everything from Kraft Macaroni and Cheese to diesel is going up up up... yet your paychecks are going down down down. I get it. But let me tell you about this organization and let me tell you about The Human Race. (Oh, god. Are we part of that?)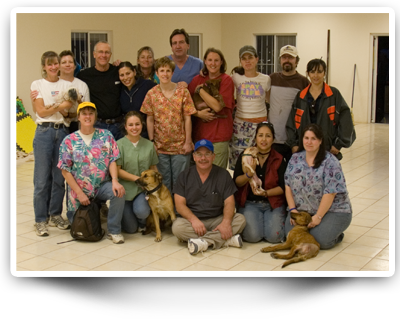 Compassion Without Borders was founded in 2001 by Christi Payne and Juan Ramon Camblor.
The focus of the organization is to alleviate the suffering of unwanted companion animals in Mexico and other low resource regions through a multifaceted approach which includes international rescue efforts, extensive spay/neuter campaigns, humane euthanasia and humane education.
The board is made up of veterinarians and professional animal advocates with decades of experience from around the country. CWOB is staffed by nearly 100% volunteer labor – which means 100% of all donations can go directly toward the work!
My girlfriend(she wishes she was but I keep tellin her I'm taken) Nina is walking(probably running 'cuz she's a belly dancer and has great stamina) in The Human Race on Saturday, May 5 in beautiful Sonoma County, Cali. This wonderful event raises hundreds of thousands of moola for so many great non-profits. It's hard to choose which one, but I'm gonna help ya! I was supposed to walk with her but I double-booked, which is one of the repeated, boring and ridiculous stories of my life. All I'm askin y'all to do is go on this website for a couple minutos and pledge/donate/give! Damn it, $10.00 bucks!
If each of you gives just $10 bucks, we can help save these dogs which suffer, in unfathomable numbers; far more than our rescue dogs here in the U S of A. (Mexico's got bigger catfish to fry than helping sick, stray dogs that's for damn sure) TEN BUCKS, pals. That's nothin. For me, that's 2 G&T's during a Happy Hour, and I can certainly afford to give that up.
(If you're a distant relation of Mitt Romney, please give $20)
Now just click here. Please do it right now on Earth Day. 'Cuz your compassion, my compassion
has no borders.
http://www.humanracenow.org/goto/CompassionWithoutBorders
My pals, Nina sends a HUGE grassy-ass. I thank you too and your heart will wag itself to sleep tonight.
Oh! And check out this way cool (not horrific or sad; more like Cinderella ending) video. It'll warm your dog-lovin faces this mornin in only a way Etta James can.
http://cwob.org/international-dog-rescue-video.html
~tpg